Health and wellbeing - mHealth: delivering health care at any place, any time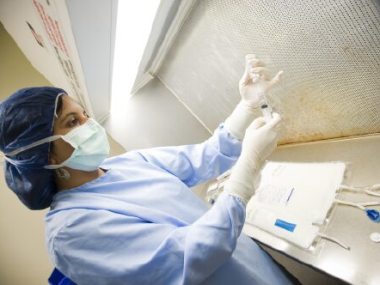 Delivering timely, relevant, reliable, integrated information is important in the area of Health and Wellbeing. There are many projects with researchers from the Faculty of Information Technology addressing needs relating to mHealth.
Enhancing patient management at the point of care using electronic-based clinical pathways and Context-aware smarts robots for ambient assisted living environments are just two projects that our researchers are investigating in the area.
Our researchers in this critical research area include Associate Professor Shonali Krishnaswamy, Professor Ingrid Zukerman, Professor Frada Burstein, Associate Professor Julie Fisher, Associate Professor David Taniar and Professor Bala Srinivasan.
Situation-Aware Mobile/Ubiquitous Data Mining for Patient Monitoring At Home
Researchers:
A/Prof Shonali Krishnaswamy Shonali.Krishnaswamy@monash.edu, Dr Mohamed Gaber (mohamed.gaber@infotech.monash.edu.au), Prof Arkady Zaslavsky (Lulea University of Technology, Sweden)
Partners:
Prof Andrew Tonkin (Head, Cardiovascular Research Unit, Faculty of Medicine, Nursing and Health Science, Monash University) and other researchers from DEPM at Monash University, Prof. Irene Cosic (Associate Pro Vice Chancellor, Science, Engineering and Health, RMIT University) and other researchers from Bio-Medical Engineering at RMIT, Dr Nicholar Nicoloudis (Asia Pacific Software Architect, Intermec Technologies)
Centre:
DSSE
Funding:
Requested - NHMRC/National Heart Foundation
Project outline:
The proliferation of smart phones/PDAs coupled with the availability of low-cost bio-sensors that can measure a range of physiological parameters has led to the increasing use of this technology to help provide continuous and real-time monitoring of patients in an out-of-hospital setting. more...
The state-of-the-art technologies in this area are limited by two facts: 1) they mainly use the mobile device for transmission only (i.e. they do not actually process the sensory data on-board the mobile device, or 2) they do on-board processing but this does not include sophisticated real-time analysis of the data. Finally, there has also been little consideration of adaptation of the monitoring/analysis and transmission process to consider changing resource levels on the mobile device. This is an absolutely critical parameter to ensure continuous monitoring given the energy/computational limitations of mobile devices. We have developed the first resource/situation-aware mobile data analysis technology.

This includes the theoretical adaptation strategies based on innovative situation-inferencing, a suite of mobile data stream mining algorithms and visualisation techniques, and an operational system that integrates this research – the Open Mobile Miner. This technology has been shown to support monitoring and facilitate self-management of cardiac patients at home. We are currently awaiting funding from the National Heart Foundation/NHMRC to conduct a pilot study for chronically ill cardiac patients. This effort is led by Prof. Andrew Tonkin (Head, Cardiovascular Research Unit, Monash University). It must be noted that the technology is not specific to cardiac illness and can be also used for patient self-management for other conditions as well. less...
Key outcomes:
A progressive study of user and sensor models for monitoring and assisting elderly people, focusing on the visually impaired
Ingrid.Zukerman@monash.edu
Researchers:
Prof Ingrid Zukerman Ingrid.Zukerman@monash.edu, A/Prof, E. Lamoureusse and Dr G. Rees (CERA), A/Prof A. Russell (andy.russell@eng.monash.edu.auEngineering, Monash), Dr Fabian Bohnert, Dr Jan Alexandersson (DFKI, Germany)

Partners:

CERA (University of Melbourne), VicHealth, Meticube, DFKI (Germany)

Centre:
CRIS
Funding:

ARC Linkage 2010-2013
Helen McPherson Smith
VicHealth
Meticube

Project outline:
This project will produce advances in sensor networks, language technology and user models to provide solutions that allow elderly people to remain independently in their homes. To achieve this goal, we will assess the needs of elderly people, and the possible impact of our technology on their lives. more...
Key outcomes of the project are: a) novel sensory, intervention and communication devices to be deployed in the homes of the elderly; b) computational mechanisms for acquiring and exploiting models of elderly people's behaviour using data from the sensory devices; c) a set of interventions and decision procedures to improve the safety and independence of elderly people in their homes; and d) a cost/outcome analysis of the planned technologies. less...
Key outcomes:
Context-aware mobile decision support systems for medical emergency management in mass gatherings
Researchers:
Prof Frada Burstein (Frada.Burstein@monash.edu), A/Prof L. Churilov (Monash University), A/Prof Arkady Zaslavsky (Lulea, Sweden), A/Prof J. Wassertheil (Peninsula Health), Prof P.A. Arbon (Flinders University of Australia)
Partners:
Intel Australia
Centre:
COSI
Funding:
ARC Linkage 2007-2009
Project Website:
http://www.infotech.monash.edu.au/research/about/centres/cosi/projects/mobile/
Project outline:
This project contributes to gaining a clearer understanding of the nature and requirements of medical emergency during mass gathering events. more...
We will build and test a mobile real time decision support tool for improving efficiency of medical decisions to strengthen Australia's ability to manage potential health- related hazards. This project addresses research priorities of promoting and maintaining good health. It capitalizes on smart information use and will be of great benefit to mass gatherings emergency management. This project will also train highly qualified IT specialists critical to Australia's scientific and industrial development, thus increasing our competitiveness in information technology R&D. less...
Related theme:
Sustainability - Prediction, Preparedness and Response
Key outcomes:
Context-Aware Smart Robots for Ambient Assisted Living Environments
Researchers:
A/Prof Shonali Krishnaswamy (Shonali.Krishnaswamy@monash.edu), Dr Mohamed Gaber, Prof Arkady Zaslavsky (Lulea University of Technology, Sweden)
Partners:
Prof Sahin Albayrak, Technical University of Berlin
Centre:
DSSE
Funding:
Group of Eight - Germany Joint Research Co-operation Scheme
Project outline:
This project aims to investigate the use of Context/Situation-Aware Robots facilitate assisted living for elderly people, people with health conditions etc. The project has just commenced with funding from the Group of Eight – Germany Joint Research Co-operation Scheme. more...
The project aims to leverage the situation and context-aware technologies that have been developed at DSSE to better control robots that facilitate assisted living. less...
Key outcomes:
Mobile Healthcare Mashup
Researchers:
A/Prof David Taniar (David.Taniar@monash.edu), Prof Bala Srinivasan (Bala.Srinivasan@monash.edu), Dr Agustinus Borgy Waluyo (Agustinus.Borgy.Waluyo@monash.edu)
Centre:
DSSE
Funding:
Pending
Project outline:
In this project, we aim to develop "Mobile Healthcare Mashup", a novel service-oriented framework for ambulatory health monitoring and services, which integrates wireless body sensor devices, mobile, location positioning, and Web 2.0 technologies. more...
This project offers real-time health monitoring, historical data queries, emergency alert, data fusion for early diagnosis and value-added services to the patient. These services also correlate to location-aware services that are important not only to assist patients in finding places but also to help paramedics in locating patients when unexpected condition occurs, hence immediate aid and instructions to the patient can be given. Mobile healthcare mashup also provides services to recommend patient a suitable walking route based on patient's health condition. less...
Key outcomes:
Enhancing Patient Management at the Point of Care Using Electronic-Based Clinical Pathways
Researchers:
Dr Linda Dawson (Linda.Dawson@monash.edu), Dr V. Plummer (Virginia.Plummer@monash.edu), A/Prof Julie Fisher(Julie.Fisher@monash.edu)
Partners:
Peninsula Health Frankston Hospital, NEC, Print Media Group (PMG)
Centre:
COSI, DSSE (and the group from Peninsula)
Funding:
ARC Linkage 2004-2006
Project outline:
A digitised clinical pathway data management system (DCPMS) has the potential provide a technological solution to the collection, storage and use of clinical pathway data. more...
A DCPMS which improves staff satisfaction, is likely to increase utilization of clinical pathways, positively impact on health outcomes, cost of care, quality of care and length of stay leading to enhanced bed management and access. These outcomes are critical in an environment of increasing demand on health services evidenced for example by increasing frequency of emergency department ambulance bypass and growth in public hospital surgical waiting lists.

The primary aim of this project is to investigate how patient care can be improved using current technology not currently implemented in hospitals. The secondary aim is to investigate how patient management at the point of care can be enhanced using electronic clinical pathways. The project will setup a 2 year proof-of-concept project at Peninsula Health's Frankston Hospital. The project will implement and investigate digital pen and paper technology for the collection of clinical pathways data at the point of care. less...
Key outcomes: